5 Ways authors can use Snapchat to Grow Their Followers
Snapchat is the best tool for authors because it centers around authentic storytelling which is something that successful authors are extremely good at. It takes very little effort as an author to engage with your audience on this platform. Snapchat allows you to market your non-fiction and fiction books in a complete new and innovative way via the Snapchat Story which disappears after 24hrs. Discover how to take advantage of short stories, instant feedback, and custom geofilters today!!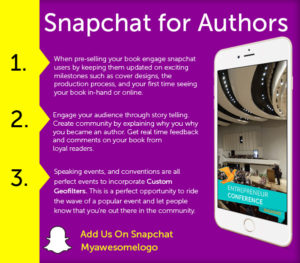 When pre-selling your book engage Snapchat users by keeping them updated on exciting milestones such as cover designs, the production process, and your behind the scenes exclusive content.
Engage your audience on Snapchat through story telling. Create community by explaining why you became an author and what motivates you to continue your work. Also engage with them using your personality and interests.
Get real time feedback and comments on your book from loyal readers. Ask questions about their favorite part, and what your readers enjoyed. Or get some constructive feedback on what they would like to see in your next book.
Speaking events, and conventions are all perfect events to incorporate  Snapchat's Custom Geofilters. Get a design that features your book and or key characters to create a buzz and interest around your launch. This is a perfect opportunity to ride the wave of a popular event and let people know that you're out in the community.
After the launch and production keep the hype and interest going by doing a book club or interactive snap stories every week to connect and maintain the relationship you've built with your audience. Also let your readers send you snaps, so that you can feature testimonials from everyday people to build trust with your followers.
If you found this post to be helpful follow me on Snapchat @myawesomelogo